aquamorph livecd: News
updated @ 2010-01-29

aquamorph aka aquatix' Morphix lightgui mainmod modification - Clean, Simple and Complete
Overview of the news items about the aquamorph livecd.
2006-09-05
Satan has gone skating! Enjoy your aquamorph version 0.4 :)
2006-09-03
Finally, something for download! The release candidate of aquamorph version 0.4 can be downloaded and tested from this server. Mind that it's not a blazingly fast server, so it may take a while :) Let me know how things fare.
A screenshot: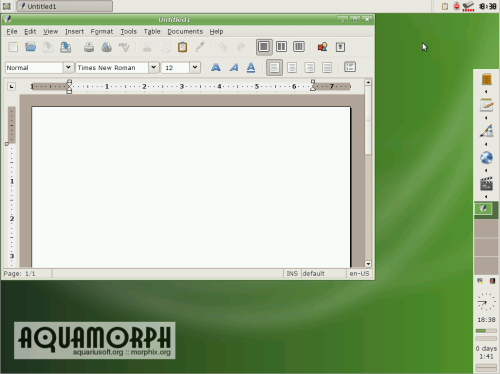 2006-06-15
And another update without a tangible .iso to download. However, now Xfce is installable again, I started updating my tools again, and it seems aquamorph v0.4 [yes, .4 as .3 used Xfce 4.2 and I want to distinguish between them] could be ready and of next week, maybe even sooner. Some updates:
added mksquashfs which I accidentially forgot to add to v0.2 [still necessary for v0.3 with 0.5-pre6 base?]
added dvd/cd-burn software [done in v0.3: graveman; may include gnome-baker if wanted]
make aquamorph autobuildable [as of v0.3, aquamorph is build with mmaker]
Add hal-device-manager and pmount to automatically mount devices [like cd-rom, usb thumbdrives etc], which the nice Thunar file manager supports too
2006-03-12
OK, v0.3 is almost done now [no, really!]. I'm playing with the size a bit, as the full thing turned out to be 420MiB. When leaving out the Sun Java things, stripping some of the fonts and some packages but keeping in the audio/video codecs I now have an .iso of 339MiB. Thoughts about putting Java in or not can be posted at this relevant weblog posting.
Obligatory screenshot [click to enlarge]: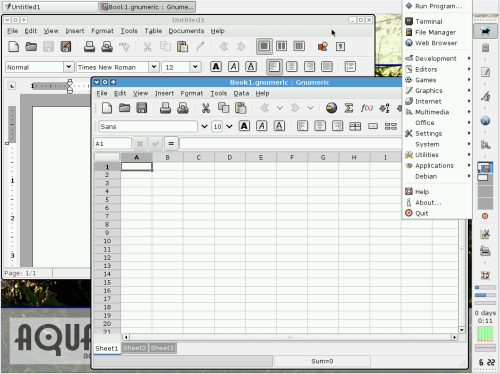 2006-01-30
Added gparted, a partition manager and thunar, xfce4's new file manager
2006-01-21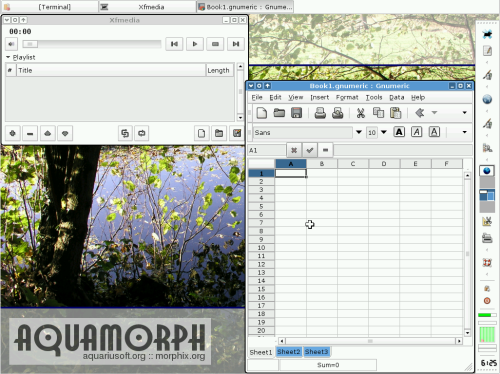 2006-01-19
Still busy configuring things to my likings. Also rewriting the manual [in English and Dutch] is taking some time. Things are progressing though!
2005-12-05
I'm currently configuring the default setup of aquamorph to my likings and checking whether I'm still missing some packages. Expect a release real soon. No really! :)
2005-11-30
So I didn't release a new version back in June. Too bad it just didn't work out with my planning. However, now I am building aquamorph with Morphix' mmaker tool, and adding some extra configuration, so building a new release is getting more and more easy for me. As such, I'm testing and tweaking v0.3. An early version looks like this: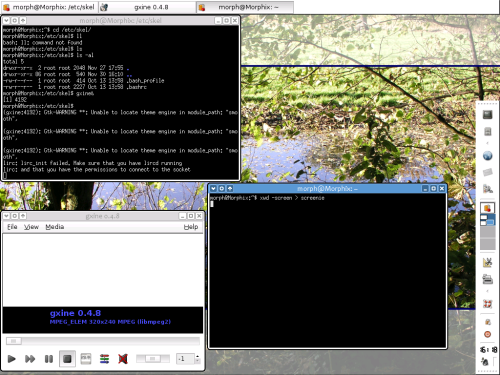 So, please hang on while I reproduce the group of packages I had in 0.2 and configure the Xfce4 environment to a usable state.
2005-06-02
About time I updated aquamorph! I'm updating the packages at this very moment, and am thinking about including LinNeighbourhood as convenience packages for those using SaMBa shares. And it will have cd burning support! I finally found a nice GTK2 based burning frontend, graveman, which I'll include in the 0.3 release, which is drawing near now [really!]
Updates in 0.3:
\t
Updated everything to the latest versions available in Debian sid
\t
Updated xfce4 to version 4.2 available on os-works.com
\t
Added graveman cd/dvd burning software
2004-12-02
Updated the aquariusoft.org website so cleaner url's are used. Please update your bookmarks to this aquamorph page
Also note that for over a month now an aquamorph forum exists, where you can brainstorm, troubleshoot and praise the joys of GNU/Linux livecd's.
2004-07-28
*Drumroll* - there it is - finally - v0.2 of aquamorph is online! Get it while it's hot :)
Kind of disclaimer: Please read the "Mild warnings" part at the todo page.
2004-07-26
I'm currently finishing some tweaking of the various parts of the xfce4 install of aquamorph. I only need to create a little Help page and then aquamorph 0.2 will be finished!
2004-07-20
As I finally have some vacation from classes, I'll try push out a new aquamorph in a few days. I know I've promised it quite often before, but I'm finally doing it :) Besides that, people really get annoyed with the age of the various morphix isos, so I'll just try to take over some Lightgui marketshare ;)
Ok, some thoughts:
\t
Morphix base 0.4-1e
\t
squasfs userland tools [mksquashfs]
\t
new Morphix tools [installer, xconf, networkconf, etc]
\t
grub instead of lilo [need to dig some documentation to get to learn the magic of it; like - a custom aquamorph splash or something :)]
\t
update xfce4 panel entries, including all nice tools I've put in aquamorph
\t
no OpenOffice.org; it's just too bulky
Don't be shy and contact me at morphix at aquariusoft dot org or in #morphix at irc.freenode.org for feature requests/remarks or fan mail ;)
2004-06-16
I tested a new aquamorph today. 0.1.03.1 is not ready for prime time [will fix the version number when it is ;) ] but it's looking like something that will be a worthy successor to the ancient release 0.1.00
2004-05-11
Yeah, this project is still alive :) I'm feeling kinda sorry I'm letting a release slip and slip. But I'm very busy with Real Life(tm), little projects of my own, work and blah blah blah, so releasing a new, updated aquamorph is becoming important for me to show I'm still capable of doing useful things for the community =)
Sooo, I'm still pondering whether or not to include OpenOffice.org. And if I do, I should drop Gnumeric and Abiword. I don't have to, because there's plenty of space left, but that's exactly my point. I want aquamorph to be as complete as possible, but without the bloat. As I said in the previous news item, I included beep-media-player and gxine. However, beep player is kind of redundant to xmms. It's GTK2, so nice looking, but still has it's quirks. Maybe I'll throw it out of the distribution again. However, I'm becoming a fan of Rhythmbox, another mediaplayer. This, however, is quite a different kind of media player, and is interesting enough to be put in besides xmms. gxine has a simpler interface then xine, so people are more likely to like gxine. And I want aquamorph to be an advertisement for GNU/Linux and opensource goodness too, so that's a pre.
Again, a little list, but now with things to consider:
\t
Include OpenOffice.org?
\t
If I do, throw out Gnome office? [Gnumeric and Abiword]. I tend to keep them, because they work fine and are lightweight do-it-alls
\t
Put in Rhythmbox [and throw out beep-media-player?]
\t
Wait for new base? 0.5 will feature some major changes, like being able to put your own mainmod together. However, it's not finished yet, and 0.4-1d is doing just fine
\t
What burning program to include?
Please, don't be shy and contact me at morphix at aquariusoft dot org for suggestions. OK, I'm going to plan some time for some updating and I will burn and test a development version next week, I hope. As I said, it's becoming important for me again, so stand ready for a New and Improved(tm) aquamorph ;)
2004-03-22
I did a dist-upgrade today, so I'm a step closer to a new aquamorph. I've to tweak things a little and then burn and testrun and probably have to adjust a whole lot of things [quite a few things have changed since September last year], and I'm quite busy, so I guess it will be an April the first release ;)
Some news: threw out nedit, idesk. Replaced mozilla-firebird with mozilla-firefox. Installed gxine [besides xine], beep-media-player [xmms is still there also] and got flashplugin-nonfree. The latter brings me to the following: aquamorph contains some items from non-free [the flash plugin, unrar and the nvidia drivers]. I did this because I think it makes life a lot easier. And that's why I created aquamorph in the first place :)
New base will probably be 0.4-1d. Or maybe 0.5 [I've waited so long already ;)]. The version of the Morphix Lightgui doesn't really matter, because it does not change that much. However, I'll try to put in the latest Morphix software [installer, con, config utils and maybe partition morpher?] to get the ultimate Morphix experience =)
Ow, I still haven't decided about putting OpenOffice.org in. Maybe I'll leave it out; aquamorph already has gained some weight. But on the other hand, I'm trying to get the Ultimate Experience(tm) and it doesn't fit on a mini cd anyhow. I'll see.
2003-12-15
OK, it's almost 3 months since I released aquamorph 0.1.00, and I realize there should be an updated version. However, my university is claiming loads of my time [this week I've some pretty neat finals and 2 projects are pending...], so Morphix/aquamorph is just my main OS atm instead of being an active project. However, I think I've some spare time in January, so I'll try to create a new aquamorph, this time with java as minimodule [of my own, to be contributed to Morphix], and OpenOffice.org [as minimod from morphix.org, maybe updated to the newest packages, I'll see]. It would be really nice if I can combine it with a new base from Morphix [new kernel? new kernel options for some xfce4 panel plugins?]. I'll include all current xfce4 panel plugins and a new wallpaper of my own just for fun :)
So, some thoughts:
\t
Updated debian packages
\t
Java SDK as minimod instead of build into mainmod
\t
OpenOffice.org minimod [get rid of Gnome Office aka Abiword&Gnumeric?]
\t
All xfce4 panel plugins
\t
Wallpaper
\t
Industrial GTK2 theme
\t
Slightly modified Metacity windowborder theme
\t
New base?
\t
CD toast programs?
Suggestions to: morphix at aquariusoft dot org
2003-12-12
Fixed link to README. Sorry; have recently moved lots of stuff around on my server :)
2003-09-17
I'm currently finishing aquamorph 0.1.00, which I will soon upload to sourceforge
You can reach me for bug reports, feature requests or fan mail ;) at aquamorph at aquariusoft dot org