aquamorph livecd: News
updated @ 2010-01-29

aquamorph aka aquatix' Morphix lightgui mainmod modification - Clean, Simple and Complete
Overview of the news items about the aquamorph livecd.
2006
Satan has gone skating! Enjoy your aquamorph version 0.4 :)
Finally, something for download! The release candidate of aquamorph version 0.4 can be downloaded and tested from this server. Mind that it's not a blazingly fast server, so it may take a while :) Let me know how things fare.
A screenshot: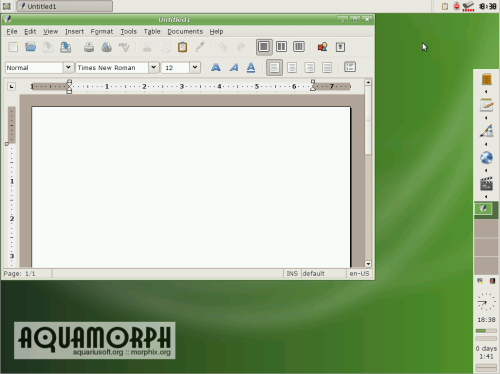 And another update without a tangible .iso to download. However, now Xfce is installable again, I started updating my tools again, and it seems aquamorph v0.4 [yes, .4 as .3 used Xfce 4.2 and I want to distinguish between them] could be ready and of next week, maybe even sooner. Some updates:
added mksquashfs which I accidentially forgot to add to v0.2 [still necessary for v0.3 with 0.5-pre6 base?]
added dvd/cd-burn software [done in v0.3: graveman; may include gnome-baker if wanted]
make aquamorph autobuildable [as of v0.3, aquamorph is build with mmaker]
Add hal-device-manager and pmount to automatically mount devices [like cd-rom, usb thumbdrives etc], which the nice Thunar file manager supports too
OK, v0.3 is almost done now [no, really!]. I'm playing with the size a bit, as the full thing turned out to be 420MiB. When leaving out the Sun Java things, stripping some of the fonts and some packages but keeping in the audio/video codecs I now have an .iso of 339MiB. Thoughts about putting Java in or not can be posted at this relevant weblog posting.
Obligatory screenshot [click to enlarge]: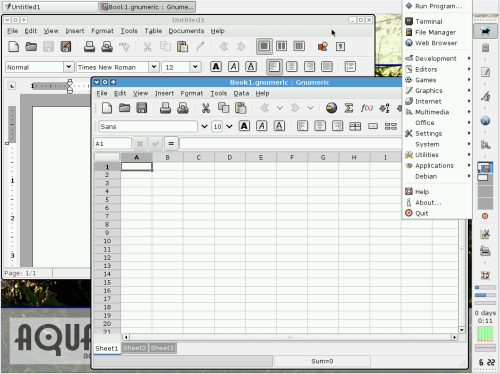 Added gparted, a partition manager and thunar, xfce4's new file manager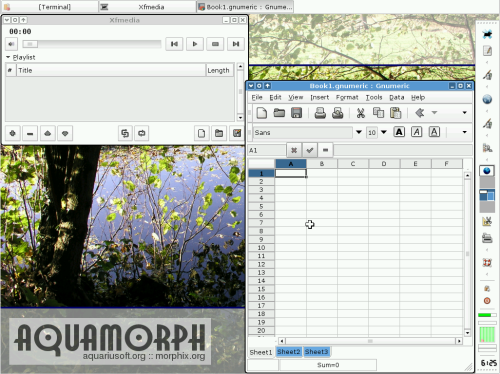 Still busy configuring things to my likings. Also rewriting the manual [in English and Dutch] is taking some time. Things are progressing though!
2005
You can reach me for bug reports, feature requests or fan mail ;) at aquamorph at aquariusoft dot org