AquariuSoft
updated @ 2011-06-10
This site is the base for all projects by AquariuSoft, also known as Michiel Scholten. AquariuSoft is specialised in web development, system and network administration (Linux) and application development.

aquariusoft.org in het Nederlands
News
Currently the most active projects are the web projects and Python/Django stuff. The aquamorph livecd is not really under active development anymore, as I don not need it as often as I used to. When I do, a tend to grab an Ubuntu livecd to do the job.
The other projects aren't forgotten though. I just have to spread my sparse free time among the things that interest me most at a given time and I don't want to spread it thin.
Also, work is being done at the site of Apotheek Waterrijck, which will soon get an update.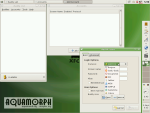 The Qik site framework
One of the projects of AquariuSoft is Qik, a PHP based framework for quickly setting up a site, even multilingual if you want. No need to use databases, only PHP has to be installed. You don't even have to know anything about PHP programming to set up a site with it!
Updates
2011-06-10
Check out the new Django section, with tips and tricks for installing, configuring a server with Apache, notes from DjangoCon and more.
2011-06-07
A new child in the aquariusoft.org family of websites! Behold familiescholten.net, the new home of - well - us :)
2011-06-01
Yeah, it has been rather quiet here. However, work hasn't killed my projects, so I'll be updating this website more often in the upcoming months. For the time being, I've started a Django page, on which I group my Django notes (like how to install an app on an Apache server, where to find information on X and such. Enjoy!
2010-01-26
Currently working on a design revamp and a structural review of the AquariuSoft website. It will become a lot cleaner and have a better layout. Check back soon!